You make music because you love it. And I promote music because I love it. Ever since I first started helping musicians get more publicity, I was hooked…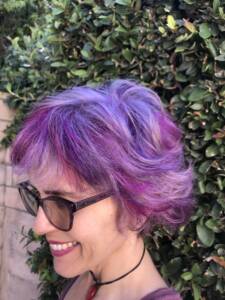 Back when I was Wendy Weisberg (which rolled off the tongue much more easily!), I started my career in 1992 at I.R.S. Records where I assisted with national media campaigns for a diverse array of artists including Kirsty MacColl, Black Sabbath, dada, Ozric Tentacles and Pato Banton.
From I.R.S., I oversaw press and video for boutique independent label Alias Records, picking up the campaign for the Archers Of Loaf's critically acclaimed release Vee Vee.  A West Coast PR position for Sony-owned Relativity Recordings followed, and I began working on campaigns for Our Lady Peace, Govt Mule and Edsel.
A move to Virgin Records in 1996 enabled me to introduce national media to Sneaker Pimps, Daft Punk and Gomez, all of whom went on to become press darlings. I also had the honor of working on Massive Attack's stunning release Mezzanine and earned a Gold CD plaque for my PR efforts on Blur's self-titled album, the band's only album to date to achieve RIAA Gold Sales status.
Always up for a new challenge, I took on a National Director position at Disney-owned Mammoth Records where I spearheaded press activity for UK dance act The Freestylers and assisted with Joe Henry's Fuse campaign.
In the fall of 1999, websites were booming, particularly in the music arena. I took a Director of Marketing and Promotions position at Launch.com, before the company was purchased by Yahoo! Inc.  At Launch, I programmed radio stations in a variety of genres, acquired exclusive downloads and videos for the site as well as orchestrated unique contest promotions for a vast number of artists, including Beck, Foo Fighters, Eve 6, Mos Def and LTJ Bukem.
I started my own company in January 2002 and have worked with several clients including The Whitmore Sisters, Creedence Clearwater Revisited, Sir Mix-A-Lot, Michael Franti and Spearhead, Paul Westerberg, The Wedding Present, Johnny Marr (The Smiths, The Healers), Mickey Hart, Universal Music Enterprises, BMG, Sunset Blvd. Records and a host of very talented independent musicians including Carla Olson and folks on BMG's Americana Railroad compilation, Ian Jones, John McCutcheon, Maia Sharp, The Waymores, Camille Bloom, Kimm Rogers, Beth Thornley, Paul Manousos and many more.
Throughout my career, I have worked with and procured coverage for clients from a wide variety of media including national print publications, regional dailies and weeklies, websites, radio syndicates, television and NPR.
If you are ready for a results-driven PR pro who is creative and innovative please contact me . I'd love to hear your music and discuss your projects.